To breathe some life into my dead weblog again, a long put-off review of a useful piece of hardware I own, the Dymo Rhino 4200 thermal transfer label printer.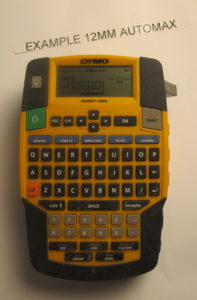 Introduction
If you, like me, involve yourself with various DIY hobbys (like 3D printing, photography, and various electronics, mechanics) you will end up with lots of containers with certain parts and/or materials in them. Labels that are easy to read and durable are in my opinion an essential tool for the home DIY hobbyist. They show what is (or should be) in a container. They will also make you think about your system of categorizing materials.
As I mentioned, printed labels are durable. That is, if they are of the gold standard of label printing, thermal transfer printing. Of course, this is a hyperbole, you're always better off with that old school embossing printer or the cheapest Dymo direct thermal than nothing at all.
But for quality permanent labels, thermal transfer is in my opinion the best.
BTW: TT printers are undeniably not a jack of all trades. For example, for mass printing shipping/price labels this technology is overengineered and much too expensive. In this domain direct thermal printing dominates. Continue reading → Post ID 3777